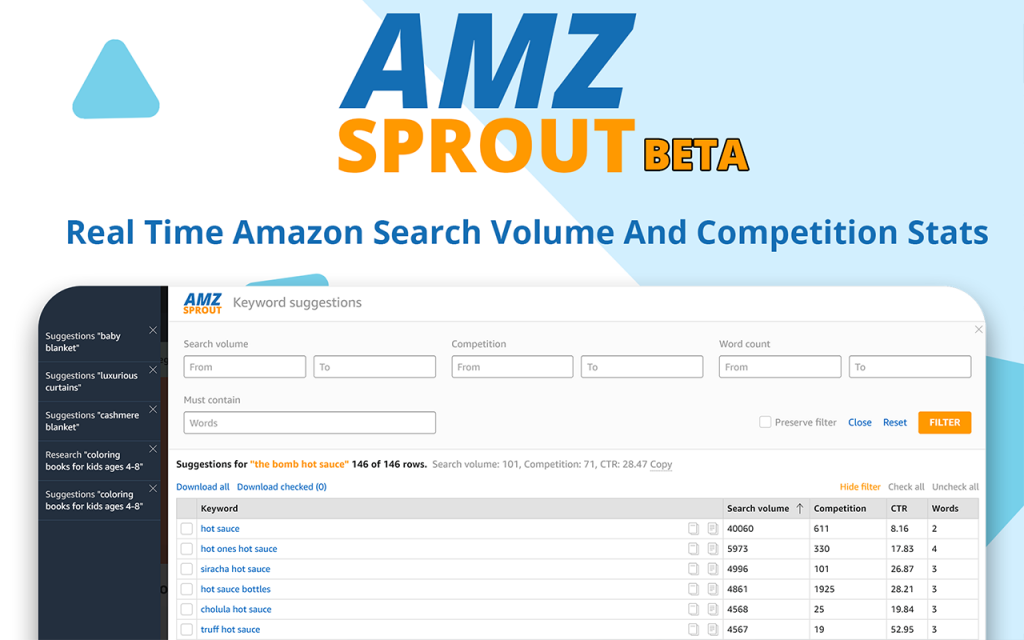 AMZ Sprout Launch – Hidden Amazon Keywords and Search Volume At Your Fingertips
There was a time when finding long tail keywords on Amazon was difficult. Launching new products or optimizing old listings was a pain and often just a shot in the dark. Even if you found some good relevant Amazon long tails to use, you had no idea if they would convert, if customers actually searched for those products, and you were left trying to fit together the pieces and try and understand things like BSR (best sellers rank) and correlate that data.
Now, things are a lot easier. You can see Amazon search volume, hidden long tail keywords, Click through Rate from the first page of results, and really narrow down your search to find the PERFECT keywords for your product, campaign, or optimization efforts.
We do all all of this with the launch of a game changing plugin!
Introducing, AMZ Sprout!
How To Use AMZ Sprout!
The first step before uncovering the right keywords for your new Amazon product launch, Amazon advertising campaign, or just optimizing your old listings is going to be installing AMZ Sprout.
To do that, first head over to the chrome store or by clicking this link here: LINK HERE
After you have done that, you will want to click on the icon in the upper right hand corner of your chrome browser and log in with either your Facebook Account, or your Google account.
This plugin is completely FREE, so there is no need to pay a subscription cost or a one time fee.
Now that we have AMZ Sprout installed, head on over to Amazon.
Step 1: Amazon Auto Suggest + MORE!
After you have logged into AMZ Sprout, you will see this pop up on your screen which is the starting point for everything that AMZ Sprout has to offer!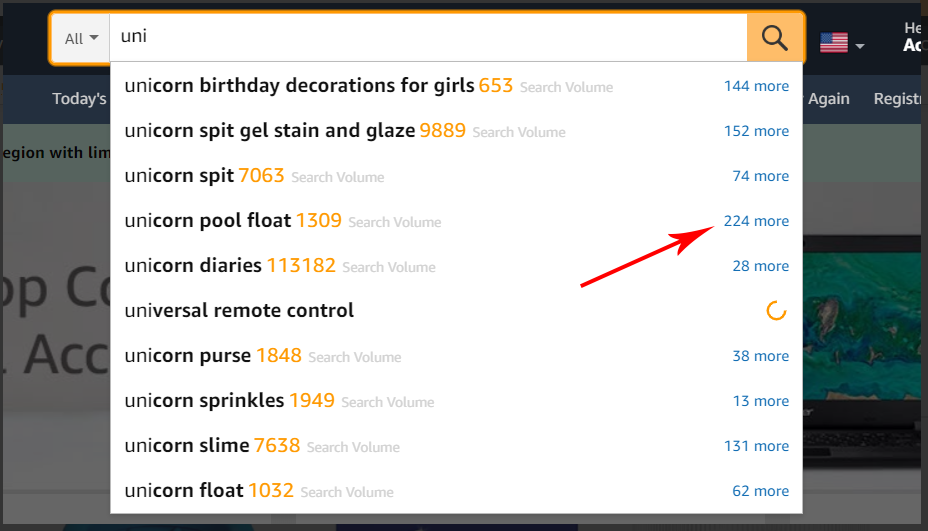 For every kind of keyword you can imagine on Amazon, you will be able to see the search volume, plus hundreds of related keywords for EACH auto suggest keyword that Amazon has in their drop down.
To begin, on Amazon.com, simply start typing out a keyword. This can be anything relating to your product but make sure you type slow enough to allow Amazon to start suggesting keywords!

At first glance, you will automatically be able to see the Amazon search volume for the auto suggest keywords that Amazon is providing. If you hold on this screen for a short amount of time, the plugin will then come up with hundreds of other suggestions for keywords on the right hand side which are clickable.
However, let's start out with just clicking "enter" on the keyword "dog treats"
At the very top of the Amazon page, you will see how many results are on Amazon for that keyword, and AMZ Sprout places the search volume for that keyword and the clickable link of more related keywords!

Every keyword you search on Amazon will have search volume attached to it so you know at all times if this is a good keyword to target or not.
Step 2: Thousands Of Long Tail Amazon Keywords
In order to pull the biggest list of related Amazon keywords for your campaign or product optimization/launch, you will want to have a LOT more at your disposal than just the Amazon auto suggest keywords.
Either in the drop down menu from Amazon auto suggest, or at the top of the Amazon page after you complete a search, you will see a button that says "176 more". This number will change depending on what you are searching for, but this is clickable!
Go ahead and click it to bring up the AMZ Sprout interface.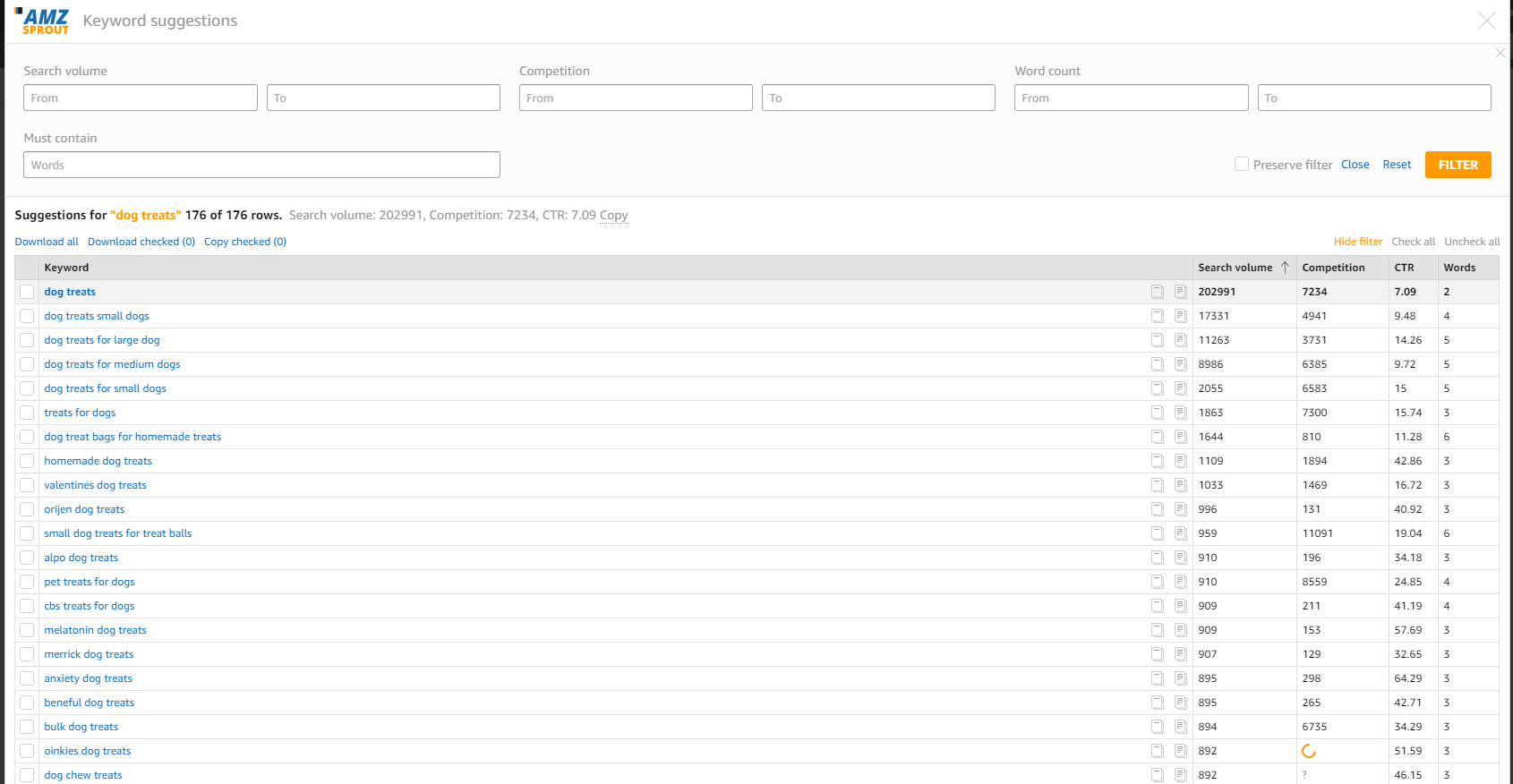 Here, you will begin to see the list populating in the right hand column for hundreds if not thousands of related Amazon long tail keywords.
This gives you 4 pieces of crucial information:
Keyword Search Volume Per Month
Competition
CTR (Click Through Rate
Number of words in the long tail keyword
The search volume for each keyword is displayed so you know exactly how many customers on Amazon are looking for those keywords and products each and every month.
The competition column will tell you exactly how many different products are currently for sale on Amazon for that keyword. This is incredibly useful to be able to determine if the niche is saturated, or if there is room to come in and make some money with your own product.
The CTR or Click Through Rate will tell you what percentage of people are actually clicking through from the first page to products giving you a good idea on how well they are selling.
Finally, the number of words will give you an idea if this is a main niche keyword, or if it is more longtail.
Step 3: Sort Amazon Keywords + Downloadable Data
There are so many different softwares and services out there that allow you to look at Amazon keywords, but none of them have Amazon search volume and let you download the data to your own computer to do anything you want with it!
AMZ Sprout is different in that we believe having access to Amazon Keywords is what you NEED to get a competitive advantage. Because of this, we allow you to sort the data, download the data, and find exactly what you are looking for.
There are two main available options here.

The first can be found at the top of the page. This is the sorting box that allows you to filter the results for search volume, competition, word count, and if the long tail Amazon keywords contain a certain word or not.
For example, let's say that we are looking for Amazon long tails to add to our advertising campaigns and we want them to have between 200-500 searches per month but have less than 200 products for those keywords.
We would enter those into AMZ Sprout like this:

Click on the orange "filter" button, and your results are displayed below!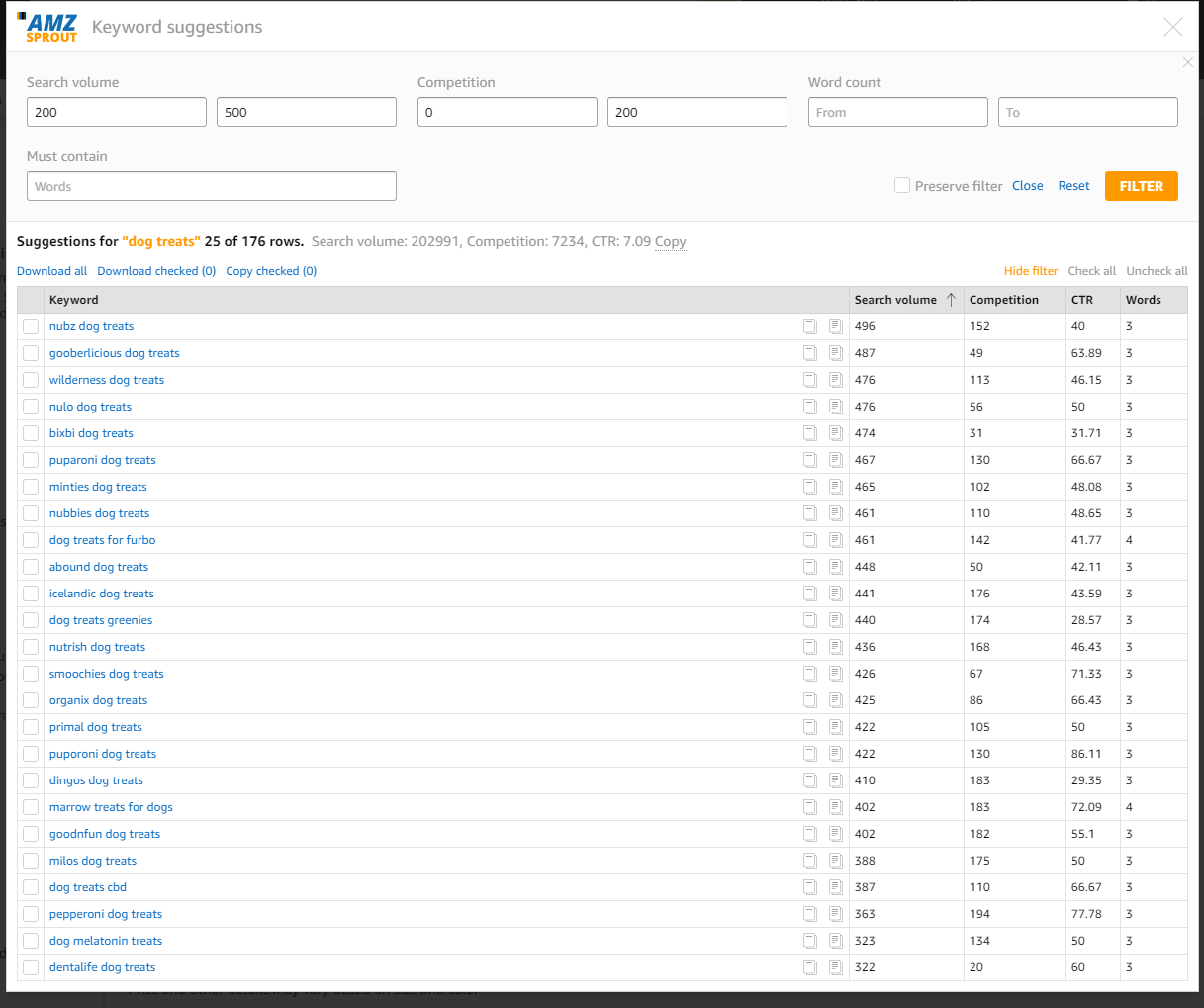 Notice how these are all long tail keywords, have the exact parameters that we searched for, and have an incredibly high CTR? These could be ripe for your own private label product, or perfect for sourcing particular items.
Now, let's say that you actually want to keep this data on your computer and do your own analysis or sorting.
To do that, the second main point is that we allow you to download anything you see on AMZ Sprout!

In AMZ Sprout, on the right hand side, you can select to check all or uncheck all. This will check or uncheck the Amazon keywords being brought back below.
On the left hand side, once you have checked any of the boxes, you can then download or copy the rows to do anything you want.
If you are looking to download EVERYTHING, then simply click on the download all button on the right.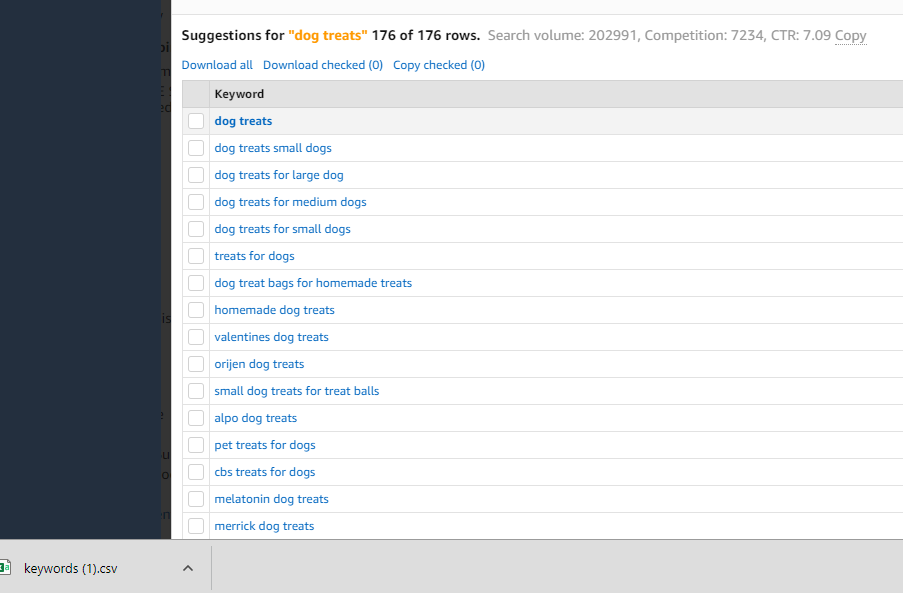 Downloading any of the results will result in a download in your browser in a CSV file that you can then use how you please.
Step 4: Staying Organized With Amazon Keyword Suggestions
Finally, AMZ Sprout also allows you to stay organized and go back to previous search results that you had taken a look at in the past.
Doing Amazon research often takes a lot of time out of your day, and sometimes you land on something great that you want to re-visit down the line.
AMZ Sprout helps you do this by keeping a suggestion log on the left hand side of your screen!

You can simply toggle between any of the results that you have searched through while logged into AMZ Sprout.
This allows you to find what you are looking for quickly, find the perfect long tail keywords on Amazon, and then download and manipulate the results to your liking.
Wrapping It Up
We are super excited to launch AMZ Sprout to the world for free in order to help sellers like YOU make the most out of your Amazon selling experience.
This plugin was created around finding long tail keywords, optimizing and launching listings, and giving you crucial keyword data that you need to success.
Let us know what you think after installing it and using it in the comments down below!